At Beach House Day Spa, we only use the highest-quality products for each of our spa and beauty services.  From premium skincare lines like Odacite and Glo Beauty, to luxurious candles by Maya Bleu, Beach House Day Spa remains committed to never retailing an item that we wouldn't use ourselves.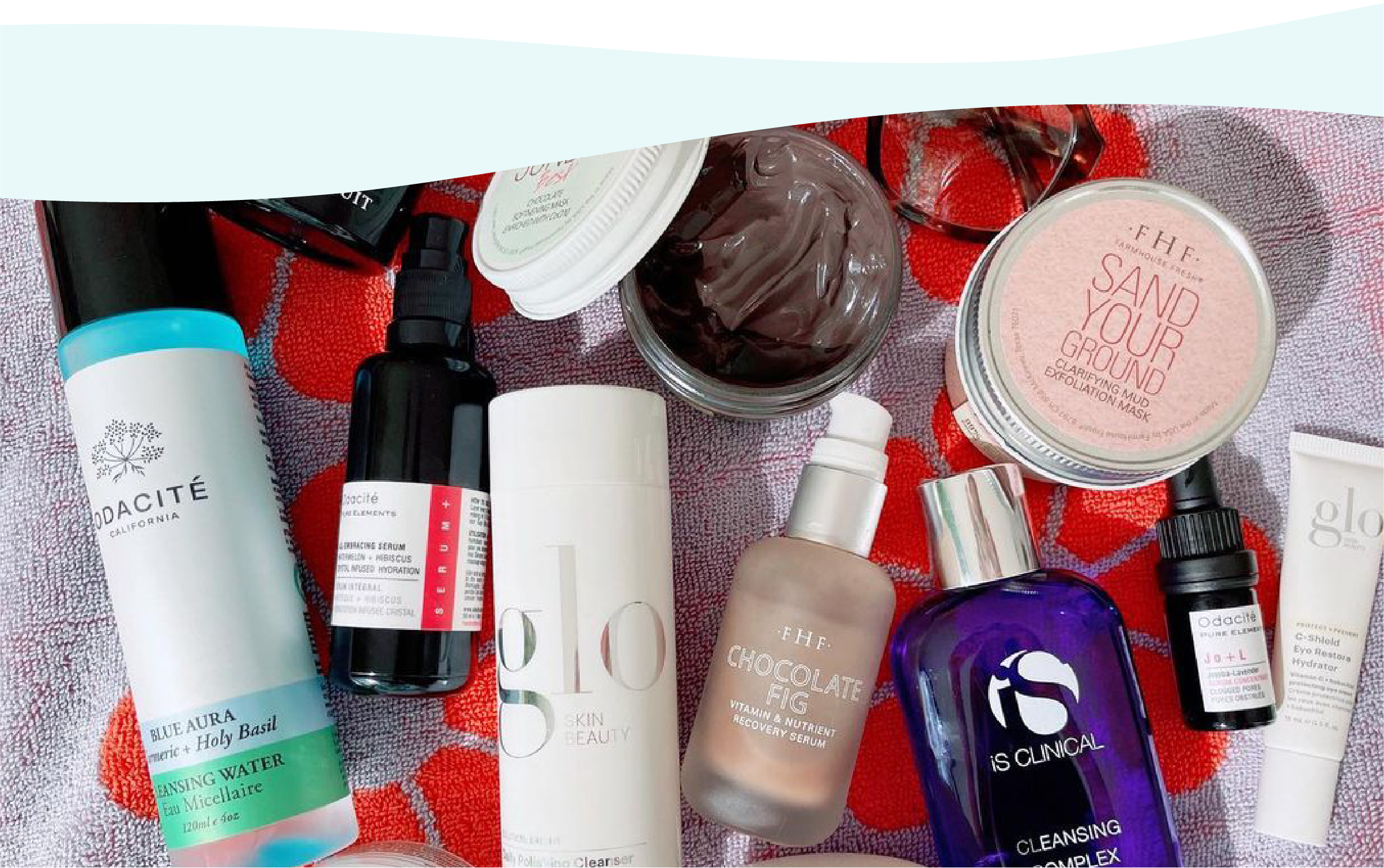 iS CLINICAL
iS Clinical innovates clean, multitasking skincare solutions that offer excellent benefits for a wide variety of skin types, ages, and genders. Their results-oriented products work the most magic when used together in a four-step regimen to CLEANSE, TREAT, HYDRATE, and PROTECT your complexion.
Staff Pick
Pro Heal Serum by IS CLINICAL
"This is one of the best serums out there because not only does it contain Vitamin C, which protects you from free radicals, it's also very soothing and anti-aging. This serum is my go-to recommendation for anyone battling acne or rosacea."
– Jenna, Beach House Day Spa Esthetician
Odacitè Skincare
Luxurious French skincare meets green California living. Pushing the boundaries of Clean Beauty, Odacite formulas are born from the potent fusion of the healing power of plants with clinical grade ingredients proven to work through rigorous research and testing.
Staff Pick
Crème de la Nuit by Odacitè
"I was never a fan of night cremes until I found Crème de la Nuit! Now, I can't live without this magical moisturizer. It's chock full of goodness, like Co-Enzyme Q10 and Vitamin C. It melts into the skin, leaving behind no heavy residue, and has a relaxing scent that is perfect for bedtime. I use it every night!"
– Michele, Beach House Day Spa Esthetician
Glo Skin Beauty
Glo Skin Beauty's innovative skincare formulas are designed to balance your skin type and pair seamlessly with specialty treatment products to tackle your top skin concerns – truly personalized skincare solutions.
Staff Pick
Daily Hydration Serum by Glo Skin Beauty
"This product is great for anyone looking to boost hydration and restore plumpness to their skin. It contains hyaluronic acid which is one of my favorite ingredients to combat dryness. I often refer to this product as a bottle of water for your skin."
– Prudence, Beach House Day Spa Esthetician
Farmhouse Fresh
Farmhouse Fresh offers a wide variety of natural skincare products that are freshly grown, crafted and served in delicious farm-to-table style.
Staff Pick
Will Dew Mask by Farmhouse Fresh
"The Will Dew mask is by far my favorite product from Farmhouse Fresh. It's probably the one I recommend most to my clients. It's so versatile and gentle enough for the majority of skin types, even sensitive. It also contains probiotics, which are extremely nourishing, and hyaluronic acid, which acts as a hydration magnet."
– MJ, Beach House Day Spa Esthetician
Relax & Wax
Relax & Wax makes the finest pre/post waxing products to make your waxing experience a breeze. With over 17 years experience it's safe to say they know everything there is to know about waxing!
Staff Pick
Get the Bump Outta Here by Relax & Wax
"Ingrown hairs are one of the peskiest things to deal with. Not only are they unsightly, but they can be very painful! From the moment I first tried this product, it has worked wonders. It helps to reduce redness after waxing and prevent ingrowns from the start."
– Emma, Beach House Day Spa Coordinator
Sol Potion
Get glowing! Sol Potion's self-tanning products are developed to achieve the most natural-looking tan. Get a golden, sun-kissed look with their long-lasting sunless lotions, mousses, sprays, and serums.
Staff Pick
Ritual Extending Self-Tanning Lotion by Sol Potion
"I love Ritual for a quick, all-over golden glow. It's a quick pick-me-up for whenever you're feeling a lack of sunshine. One easy application + 4 hours and you're glowing! It's also buildable, streak-free, and never blotchy. As far as self-tanners go, this one has the best scent I've found so far!"
– Tresha, Beach House Day Spa Makeup Artist
Maya Bleu
Maya Bleu was founded with a mission to help save our oceans while creating luxury sustainable products. Their signature Shark Tooth Candles include 4 fossilized shark teeth and a seeded duster that turns into a wildflower garden when planted in the empty candle jar.
Staff Pick
Maya Bleu Candles
"The beach is my happy place! At the age of 18, I picked a city on the coast, packed up my life and moved to the ocean. Some of the happiest moments of my life were spent there by the water. Once I discovered the brand Maya Bleu and learned about their commitment to helping save our oceans with sustainable products, I knew they would be the perfect addition to retail here at Beach House. Their tropical scents fill any room with a calm and inviting ambiance."
– Taylor, Beach House Day Spa Manager
Sombra Wellness Products
Alfredo Cortazar, founder and President of Sombra, had observed for years the way the indigenous people in Mexico treated pain with plant extracts. With his background and expertise in cosmetics, he blended some of those plant extracts into his signature product – a gel that helps relieve pain. Sombra products are a blend of plant extracts with the refreshing aromas of orange peel, witch hazel and the deep heating strength of menthol.
Staff Pick
Cooling Gel by Sombra
"It's great having a way to ease aches and pains when you're not able to make it into the spa for an actual massage. Sombra is the perfect solution because it can be applied multiple times a day. It works on sore muscles, menstrual cramps, and stiff joints. It's easy to apply and helps you get back into your normal daily routine, pain-free!"
– Hannah, Beach House Day Spa Massage Therapist
Dazzle Dry
Founded by chemist Dr. Valenty, Dazzle Dry is a nail care line free from harmful chemicals, animal byproducts and animal testing. Dazzle Dry is the only quick-drying, long-lasting natural nail care system of its kind.
Staff Pick
Ocean Motion Nail Lacquer by DazzleDry
"Vegan, all-natural, and a healthy alternative to gel polish. DazzleDry heals your nail from previous damage and easily lasts 8 days or more! What more could you want from nail polish?"
– Lauren, Beach House Day Spa Owner & Nail Tech
The GelBottle
The GelBottle Inc™ gel polishes are rich, highly pigmented, chip-resistant and offer extreme long lasting shine. The good news doesn't end there because they are also VEGAN and CRUELTY FREE!
Staff Pick
"High quality and high shine are the first words that come to mind when I think of The Gel Bottle. This brand of gel polish is a cut above the rest. The formula is vegan, non-toxic, and cruelty-free. On top of that, they offer a wide range of richly pigmented colors, perfect for every season."
– Ingrid, Beach House Day Spa Nail Tech